MAUI PLANE RIDES: FAQs
Got it.  We're in,  We want Maui Plane Rides!  Now what?

It's pretty simple:  For Maui Air Tours and all our offerings:
To BOOK ONLINE NOW, just click here:   Book Now>>
Flying on an EARLIER day during your visit is better; in case of bad weather, there's more flexibly to reschedule.
Have your   Credit or Debit card handy, we record some numbers to hold your Maui Plane Rides reservation: You will NOT be charged except in case of 'no-show' (see below).
General Excise Tax for Hawaii (GET-HI) added to all sales is 4.17%; and 6% covers All Other Fees for a smooth total of 10% Tax and Fees, which we waive if you choose a Cash format of payment:  We offer a 10% discount when you choose a Cash format of payment.  All prices you see here are the Cash price totals;  add 10% to arrive at your Total Price if choosing another form of payment.  We accept any payment format you prefer.
We'll ask you for a working cell phone number or other telephone number- it's vital we can communicate with you if needed.
Kindly provide us first names and accurate body weights of everyone flying;  there's no need to be embarrassed about it: Weight Data is Required by Regulations.
Click here for our Maui Plane Rides location, driving directions, and some helpful information regarding your flight day.
Plan to arrive at the time of your Maui Plane Rides flight, it helps us to run smoothly; Thank You, we appreciate it.  NO EARLY CHECK IN REQUIRED.
Show up ready to have the time of your lives.
Can I rent your plane if I'm a pilot?
Our insurance at Maui Plane Rides requires a Company pilot on-board; You're welcome to fly and fill up to 3 or 5 seats total, just save one seat for us, please!
What's a 'Discovery Flight'?

At Maui Plane Rides, it's a fun, easy, smooth, comfortable, thrilling introductory flight lesson and plane ride with a FAA (Federal Aviation Administration) Certified Flight Instructor.  It's a total blast, and a once-in-a-lifetime memory shared forever!
 What to expect on our Maui Plane Rides Discovery flight?

We'll meet you here and talk briefly about the plane and what makes it fly, and review your plans to soar above Maui.
It'll be clear:  You get to do as much or as little 'hands-on' flying as you're comfortable with.
We'll get in the plane, start it up and go fly.  It's all laughs after that.
Once we're airborne, you get to try flying the plane if you'd like to.  You'll be able to record your Maui Plane Rides flight in a pilot logbook or by placing a provided logbook sticker, if you wish, and in your memories, forever.
You're on vacation and enjoying Maui- the last thing you need to do is worry about it.  You'll get to do and fly as much or as little as you're comfortable with, while flying over and around incredible Maui with Maui Plane Rides.
What type of aircraft will I fly? Is it Air Conditioned?
You'll fly a fun, American made, Piper Archer during your Maui Plane Rides flight,  featuring Window Seats for everyone!  We also have Maui's ONLY 5-Seater, it's a Piper Aztec.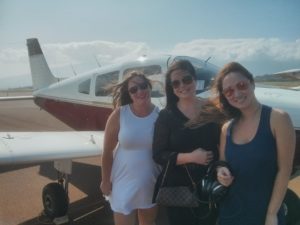 The plane is refreshingly ventilated by freon-free, Eco-friendly, crisp clean cool natural Maui air up at altitude.  There's nothing fresher!
Who's our pilot?  Is the plane safe?  Is the flight difficult?

Your Muai Plane Rides FAA Certified Flight Instructor pilot is fully vetted, tested, and individually, personally, authorized by the FAA via a flight examination with a Federal Aviation Administration Flight Inspector to act as such.  Our Instructors have demonstrated over years of flight time experience, only the absolute highest levels of proficiency, safety and smoothness.
Your Maui Plane Rides airplane is maintained under FAA regulations and to the same standards as the one that brought you to Maui.  Detailed and thorough tip-to-tip inspections occur regularly and are documented and recorded as part of a preventative maintenance strategy.
We take care of everything to mirror your level of flying interest so that you, your loved one(s), friends or group can have fun, relax, enjoy and allow cherished memories to be created and shared!
Can I bring a friend or family member?
YES.   You can bring up to two people along with you.  Or 4 if you're flying the bigger plane.
Will I have to do the takeoff and landing?
Only if you want to: On your Discovery Flight, there is no "have to do" anything.
Your Instructor will generally demonstrate the takeoff and landing, but if you'd like to jump right in, let's go!  You set the pace for your flight.  You can do anything you want under the  friendly guidance and helpful coaching of your Instructor.
If you can dream it, you can do it:  'You're Good Enough, You're Smart Enough, And Dog-Gone It, People Like You.'
Can we fly someplace for a day, or 1-way to Honolulu?  Can you pick us up in a few days?  Can you pick up someone, somewhere, and bring them to Maui, or take them from Maui to somewhere?

No.  We specialize in our awesome Maui Air Tours and Discovery Flight lesson plane rides!
Can we land at some other islands?
No, our Air Tours are Non-Stop and return to the same airport we leave from to eliminate any need for additional taxi or Uber expenses, and to make sure your rental car is where you left it!
Can kids come?  Can they fly the plane?
YES. YES.  Children of all ages are warmly welcomed and specially treated.
Children aged 10+ can experience their dream of flying a plane, safely, gently and in a positive, fun way.
We encourage you to discuss children's dreams of flight with them and offer up this transformative, educational hands-on experience with a friendly Flight Instructor ready to inspire them to achieve their loftiest goals.
It could be the first flight of many for your interested and dedicated child; the spark that ignites their fire and passion for flight.  It's happened before… to us, actually!
Are there any age restrictions?
Discovery Flights are best suited to students age 10 and up, but younger students are welcome, and can sit in the pilot or copilot's seat or anywhere else they feel happy.
Students under age 18 will need permission from a parent or guardian if not flying with them.
There are no age restrictions to begin flight training.
Are there any height or weight restrictions?
Yes, but we can usually accommodate most people. Please check with us if you have any concerns.
Height is not usually an issue unless you are very tall.
Generally a pilot might weigh less than 275 pounds, but we may be able to accommodate some outside this range.
Do we pay in advance or after?  What if we 'no-show'?  What's the cancellation policy?  Can I extend flight time during my flight?

We graciously accept and process payment plane-side, after your flight has concluded.
Your receipt will be emailed or even texted to you!
We'll make great efforts to reschedule your flight should your plans change, but many visitors have limited time on Maui, and scheduling tends to be full.
Therefore, if your plans change and you 'no show' or cancel prior to your scheduled flight, and we're not able to re-accommodate you due to your change of plans, preferences, island departure or our availability, we regret to inform you that we may impose a 50% cancellation penalty policy.
You might find that you want to extend into 'Over-Time', and continue flying for longer than planned.  We can usually accommodate your longer flight; your pilot will inform you of rate details accordingly.
No-Refund Policy; NO-Dispute Policy:
By Signing and/or Using your Credit Card, including Providing its Data by Phone, Online, or In Person, You Agree to our No Return/ No Refund/ No Dispute and our published Cancellation policy;
By Signing or Providing us your Card Data, You Agree: You Received your Maui Plane Ride (or Paid a Cancellation Penalty) and You Agree You Will Not Dispute This Transaction with Your Credit Card Issuer. 
All Sales are Final upon Signing or Providing card data.
No Refunds; No Disputes after Signing or Providing card data.
Your Signature or Use of Card Indicates You Agree;
We Appreciate You and Your Understanding; Mahalo!
My group has 18, 26 or 79 people- Can we do it?
Of course!  We can accommodate up to 3 at a time so that everyone gets a chance to fly. We also have a 5-Seat plane.
It's cloudy, or raining, or the weather looks bad?
We usually are very aware of weather patterns, and will contact you if your flight is delayed or cancelled due to weather.  A brief weather delay DOES NOT CANCEL YOUR FLIGHT.  If we contact you to cancel your flight, there will be no cancellation penalty of course and we will reschedule on a day and time that suits you.
If you haven't heard from us but you're unsure about the weather conditions, your flight is confirmed and you should meet your pilot.  Call us if you're not sure.

Weather tends to get better quickly.  We can all head to Starbucks for an hour and be flying after the time it takes to enjoy a tasty beverage or pastry.  Same day cancellations are rare.  Same day weather "holds" or "waiting" are more common.  Between you and us, it's hard to tell who's more eager to go flying.  ALL ATTEMPTS ARE ALWAYS MADE TO WAIT OUT SAME DAY WEATHER DELAYS AND GO FLYING!
Do we need to bring our passports?
No, there's no need to bring your passport.
Is there an insurance policy in case of anomaly?
Yes, we are covered by a $1 Million per incident, $100,000 per person policy, but we've remained incident-free since operating.  You're in "good hands".
Can I fly after scuba diving?
If you enjoyed your morning swimming or snorkeling, there's generally no problem.  If you explored more deeply during a scuba dive, please give yourself at least 24 hours before flying.
Will I be OK if I sometimes experience motion sickness?
Each individual reacts differently if and when feeling motion sick.  Sometimes Maui gives us windy, bumpy rides, which are fun unless you're feeling 'green'.  We strongly recommend taking motion sickness medication prior to flight, if you know you'll benefit from it.  All fliers should eat lightly before flying.  We have air-sickness bags, so if you're feeling a little 'queasy', please don't keep it to yourself; just let your pilot know– "it's no biggie".  (As long as what's yours stays together in one place.  If it's covering the interior and the rest of us, it's kind of messy, and becomes sort of a "big deal".)
Where are your Maps and Routes?
Click here to see our Flight Menu and Rates; some suggestions based on our experience.
Do you have 9 camera angles of our flight, any T-Shirts, "Remove Before Flight" printed underwear, or gift shop items to sell us?  Any Free Coffee?
No.
We're told that phones now come with cameras inside them, so on many flights, there are up to three cameras already inside the plane, inside your phones that are inside your pockets.  We're happy to make sure all the photos and video you want are taken, including with you in them.
We focus on providing a perfect sky experience, and not ordering, stocking and selling gift items.
Starbucks is up the road;  is free coffee even worth drinking?
How are you different than a helicopter ride?
Well for one thing, our airplane can safely glide.
Choppers are one way to see Maui, if they fall within your budget.  However, some things to keep in mind:
You will absolutely not be flying the 'copter, not getting anywhere near any controls, buttons or switches, and definitely won't be touching anything.  In terms of pure thrills: You Can Fly The Plane With Us!
There are often some people "stuck in the middle" of a helicopter bench seat, who may need to bend over and lean into strangers to get a look out the window.  We offer reserved window seats for everyone!
Helicopters burn around 400% more fuel, spew out higher amounts of carbon, loudly.  Our plane is Eco-friendlier, quieter, with a smaller carbon footprint.

You won't Pay For Parking in our neck of the woods.
Choppers are hugely more expensive to maintain and operate, which leads to:
H U G E Price Difference.  A family of 3 can easily enjoy a $1400 Chopper ride.  We can offer you a flight in the same Maui sky, over the same Maui beauty, for around half the price, usually for even less!

What are the "risks" involved?
Side effects may include uncontrollable, ear to ear smiles and intense sensations of awe, wonder and delight!
If flying our Sunset Romance offering, feelings of romance, tingling or sensitivity can range from mild to severe; be sure to check your partners responsiveness level before participating or engaging in our spectacular, luxurious Sunset Romance offering. 
See a Doctor right away if your Sunset flight lasts more than 4 hours.


---